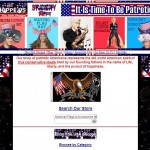 A .us country code top level domain name for the United States Shoppe.us is for sale at the domain auction website ebay.com.  The bidding on this valuable short one keyword shopping domain name starts at $269.95. This is an excellent deal perfect for domain resale profit since the appraised value of Shoppe.us is $936 as of the posting of this article.  Shoppe.us is an easy to remember domain name ideal for mainstream media marketing campaigns.  Most hosting services allow you to create sub-domains such as http://halloween.shoppe.us that forward to a web folder, or any URL you'd like.  The sites comes with a shopping WordPress blog at: http://shoppe.us/blog/.  Adding regular content in the blog has resulted in higher rankings in the search engines.
Most hosting services offer shopping cart applications to create an eCommerce website if you don't want to use the current site at Shoppe.us which currently utilizes the Amazon affiliate program.  The current theme is Americana due to the United States Of America .us domain extension.  However it can be used for any shopping website.  The website is listed in the major search engines, and has traffic.  If you're interested in investing in a profitable domain, or looking for a short URL for advertising use then go to Ebay to place a bid now.

Shoppe.us was available on Flippa for numerous months but they require you to pay up front for listings that never end up selling.  If Flippa, and other paid domain auction sites are so great then allow people to list for free then collect a percentage of the sale!